Last week marked the fifth anniversary of the launch of BlackBerry 10, and with the OS abandoned at this point we can look at the complete history of OS adoptions by users of the platform.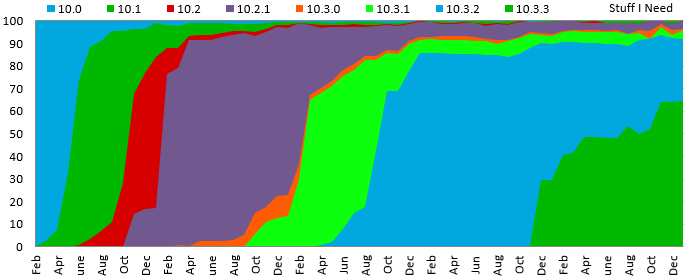 Throughout the life of BlackBerry 10 users were fairly quick to update to the newest version of the OS with almost every version exceeding 70% adoption after the first two months. This rate slowed down for the final version of the OS (currently around 64% adoption rate) as the users that cared most about getting updates have probably moved on to other platforms that are still planning future updates.
This data was collected by BlackBerry World for downloads of the free strategy game Pixelated and the free checklist app Stuff I Need. Data shown on the chart is from the launch of BlackBerry 10 in January 2013 through the end of January 2018.