As BlackBerry 10 has just passed the 5 year mark it seemed like a good time to take a look back at the platform. The very first BlackBerry 10 phone, the all touch screen Z10, proved to be the most popular accounting for 63% of all devices.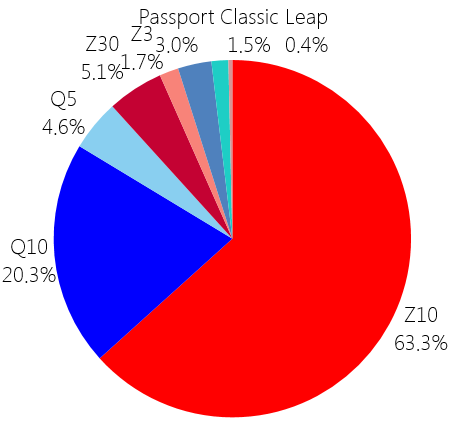 The second phone to launch, the Q10, proved to be the second most popular. This shows how the BlackBerry 10 platform never really got all that far past the initial launch of the devices. The three devices that were launched in the first half of 2013 (Z10, Q10, Q5) ended up accounting for 88% of all BlackBerry 10 phones. While later devices such as the Passport and Z30 got a good amount of media attention, they never got quite the same sales as the initial batch that BlackBerry released.
Mostly this is probably due to the lack of support for BlackBerry 10 from the wireless carriers (especially in the United States) after the initial launch of the platform.
This data was collected by BlackBerry World for downloads of the free checklist app Stuff I Need. Data shown on the chart is from the launch of BlackBerry 10 in January 2013 through the end of January 2018.