A look at BlackBerry 10 users in 2015, is far more international than in years past. Canada is still has the largest user base, but India and Nigeria have also now moved themselves into the top five.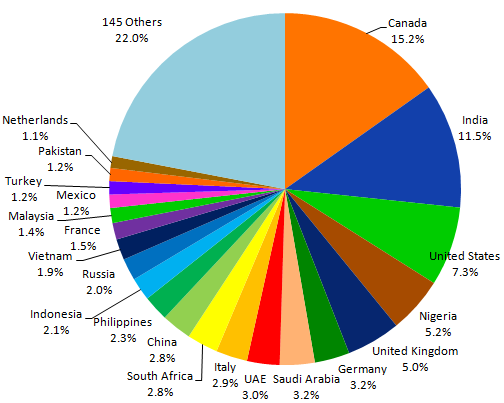 In January 2014 this breakdown looked far different. At that time Canada, the United States, and the UK had combined for 53.8% of the market, but in early 2015 they only consist of 27.4% of the market. Most of the difference comes from a larger share of the market going to countries in Asia and Africa.
India has grown from 2.8% to 11.5%, Nigeria has gone from 1.1% to 5.2%, Russia has gone from 1.0% to 2.0%, and China has increased from 1.6% to 2.8%. Meanwhile Canada, the United States, the United Kingdom, and Germany have seen their marketshare drop. The numbers in the UAE, Saudi Arabia, and Indonesia have stayed rather consistent. The end result of this, is that the BlackBerry 10 user base is more geographically diverse than ever.
These numbers are generated from downloads of the Stuff I Need checklist app from January 1st to June 9th of 2015. The data was collected by BlackBerry World when the app is downloaded.