One of the reasons I am a bit pessimistic about how well the soon to be released BlackBerry Classic will sell is that BlackBerry is positioning this phone as an upgrade for users still running BlackBerry OS. Yet I have seen how slow these customers have been to update their existing BBOS phones.
Following the release of BlackBerry 10 there has been very little motion in the BBOS user group. As of last month 21.2% of BBOS users were running OS 5.0 (or older) on what is now very outdated hardware. The most powerful of these phones are the Bold 9700 and Storm 9550 which were both released over five years ago and still do not have a webkit based browser. Use of OS 6 is not going away either as only slightly over half of all BBOS users are running OS 7 on their phones.
For as much as BlackBerry keeps talking about the need to transition BlackBerry 7 users, they also need to worry about upgrading BlackBerry 5 users as well.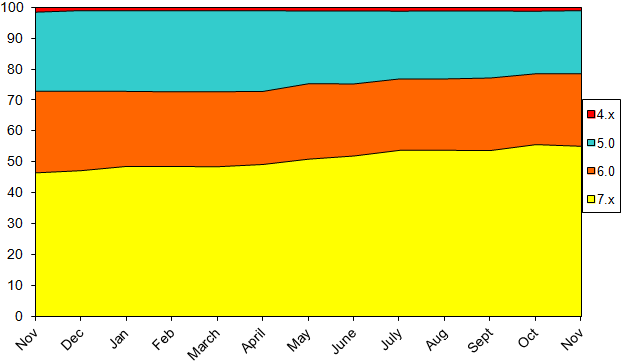 This data was collected by BlackBerry World for downloads of the free BlackBerry strategy game Pixelated. Data shown on the chart is from the beginning of November 2013 through the end of November 2014, and does not include BlackBerry 10 or PlayBook devices.