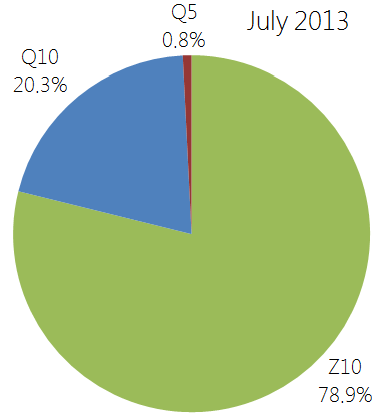 Last month I sparked some disagreement over on BerryReview when I suggested that the age of the keyboard was over. One month later, and the statistics from July show no reason for me to think any differently as once again the vast majority of BlackBerry 10 users have been keyboard free on the BlackBerry Z10.
While usage of the Q10 is up slightly from last month, there are still almost four times as many users on BlackBerry's touchscreen only phone. The Q5 while far more popular than last month is still largely irrelevant to this discussion with less than 1% of the marketshare.
I highly doubt that we are ever again going to see a situation where the majority of BlackBerry phones sold have a physical keyboard. The keys are not going away, but they are no where near as important to BlackBerry's future as most analysts would lead you to believe.
The data used in this chart was collected by BlackBerry World for downloads of the free checklist app Stuff I Need during the month of July.