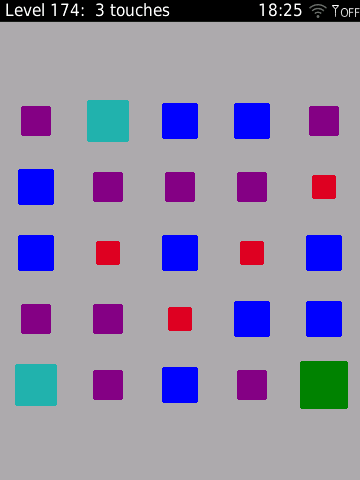 Xploding Boxes has been updated to version 2.1 in BlackBerry AppWorld. This version adds 15 new levels, adds BBM profile boxes, and improves navigation on the level selection screen.
About Xploding Boxes
Xploding Boxes is a strategy game for BlackBerry where the goal of the game is to start a chain reaction that will explode all of the boxes on the screen. Each level gives you a different number of touches, and requires a different strategy to solve. The first 25 levels are free, while the full 230 levels can be accessed by making an in-application payment and requiring no further downloads. This game is available for both the PlayBook, and for most smartphones running OS 5.0 or higher.
Improved level selection screen
When launching the game, the level selection screen now automatically starts with the last level played pre-selected. This allows you to restart the game where you left off, and get you back to playing the actual game quicker. Also you can use the keyboard short cuts 'T' & 'B' to quickly navigate to the top and bottom of the level selection screen.
BBM Profile Box
This version of Xploding Boxes, also allow you to attach a box to the bottom of your BlackBerry Messenger profile, to show off your success in the game. This feature requires that you have BBM version 6.0.1 installed, and that you check the box to allow Xploding Boxes to "Post recent activities to my profile". There is a direct link to these BBM options from the Xploding Boxes options page, in order to make this checkbox easier to find.
Links & Information