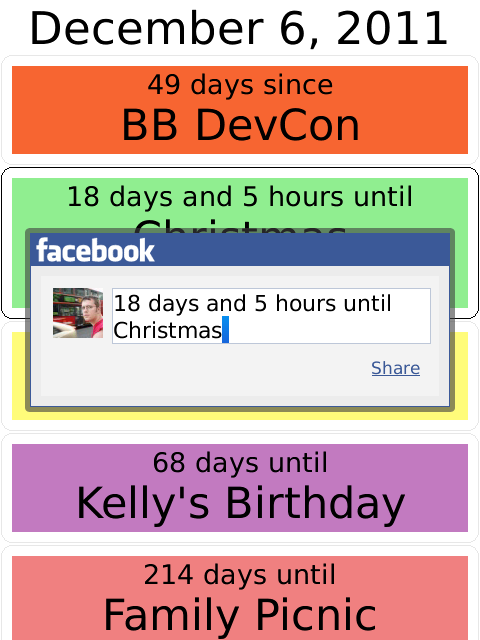 Twinkle has been updated to version 3.3 in BlackBerry AppWorld. This new version adds the ability to import Birthdays from contacts, additional ways to share events, random color selection, some stability improvements, and improvements to bulk importing of existing events.
Importing Birthdays from Contacts
You can now select a friend from your contacts, and if you already have their birthday included in their info, you can select "Add Birthday to Twinkle" from the menu, the contacts birthday will automatically show up in Twinkle.
Share events through Facebook and Twitter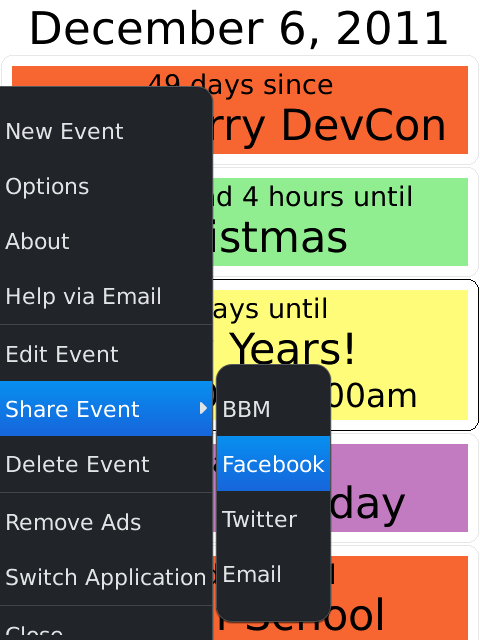 Users with running OS 7.0 or higher now have additional options for sharing events. In addition to sharing events over BBM as before, you can now also share events over Facebook, Twitter, and E-mail.
While BBM is still the preferred way to share events, those looking to post things more widely will appreciate the ability to post an event as a status update to one of these social networking sites.
Random colors
Also new in this version of Twinkle is the ability to set the default color to random on the options screen. The result of this is that any new event you create, or import to Twinkle will be given a random color. If you don't like the color that was selected, you can also change the color by editing the event. The colors of events that are already in Twinkle will not be affected.
Import all from Calendar improvements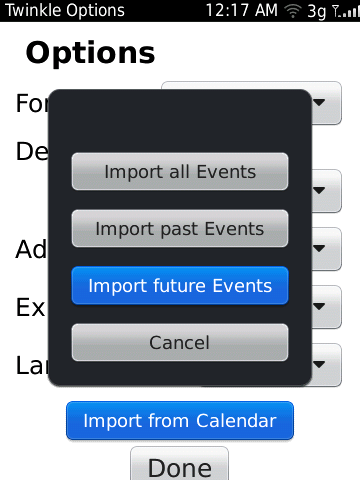 Version 3.2 added the ability to bulk import events from the calendar. This update refines the options some, by asking if you want to import all events, or just events from the future, or just from the past. As before you will be asked to confirm the number of events that you are adding to Twinkle, so you don't accidentally import far more events then you intended to.
About Twinkle
Twinkle is a simple application that allows you to set and keep track of upcoming and past events, and (optionally) share them your friends. Twinkle will tell you how far away an event is, and allows you to send events to and from your BlackBerry's native calendar, or to your friends on BBM. Twinkle gives you the ability to add and edit events, lets you keep track of how soon something is, or how long it has been since an event, and to search for all of these events through BlackBerry's universal search. In recognition of this deep integration with the device, Twinkle was named a Regional Selections Winner in the 2010 BlackBerry Super Apps Challenge.
Links & Information