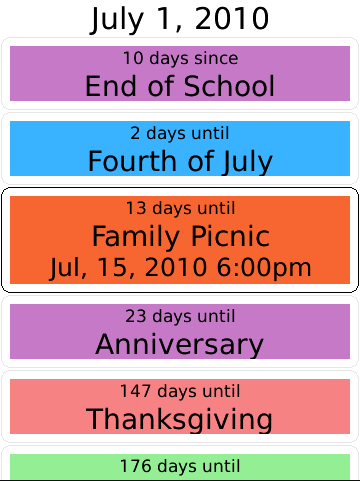 Twinkle has been updated to version 3.2 in BlackBerry AppWorld. This new version includes additional ways to import events, some stability improvements, and a way to bulk import existing events.
About Twinkle
Twinkle is a simple application that allows you to set and keep track of upcoming and past events. Twinkle will tell you how far away an event is, and allows you to send events to and from your BlackBerry's native calendar, or to your friends on BBM. Twinkle gives you the ability to add and edit events, lets you keep track of how soon something is, or how long it has been since an event, and to search for all of these events through BlackBerry's universal search. In recognition of this deep integration with the device, Twinkle was named a Regional Selections Winner in the 2010 BlackBerry Super Apps Challenge.
New in version 3.2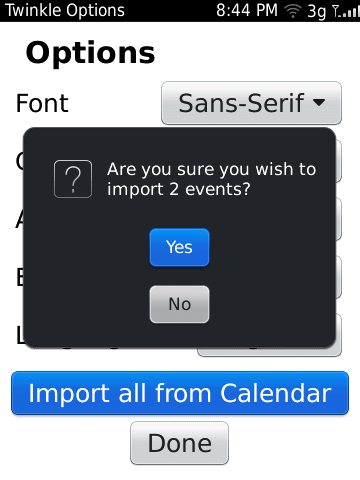 Version 3.2 makes it easier to import existing calender events into Twinkle. In addition to having the "Add to Twinkle" menu option when you highlight an event on the calendar, the "Add to Twinkle" menu option is now also available when you have opened the event itself.
Furthermore in the option page of Twinkle there is an option to "Import all from Calendar" (as seen to the right). This option allows you to add every single existing BlackBerry calender event to Twinkle. It is important to note that this is a bulk import feature, and NOT a sync feature. It will import all of your existing calender events even if they have already been added before.
Links & Information