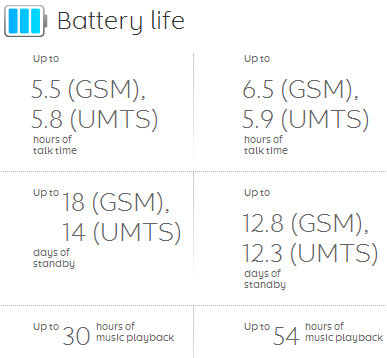 The information page for the new BlackBerry 7 phones, shows a bit of quirk when it comes to battery life. The chart to the right shows the difference between the 9800, and the 9810.
There is an improvement in battery life when it comes to overall talk time. The improvement in the hours of music playback supported is an even larger. But when it comes to standby time, the numbers actually go down. This pattern also holds when comparing the 9650 to the 9930, or the 9780 to the 9900.
With standby time still being almost a fortnight, I highly doubt that anyone is going to complain, but it shows RIM is doing something different under the hood. This is not a case of RIM just throwing in a larger battery, but rather them taking a new approach to power management.