Pixelated Plus has now been updated to version 2.4 in BlackBerry AppWorld. This new version adds a new colour scheme increases the contrast between the red and orange colours, and includes a few small performance enhancements.
New Colours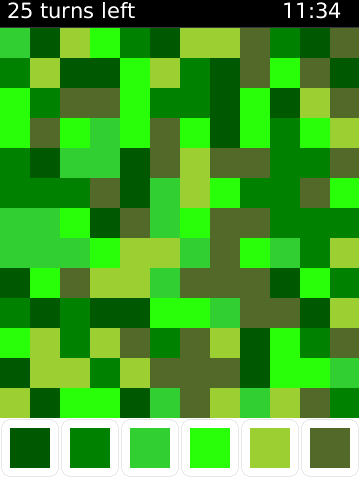 Version 2.4 adds a greater contrast between the red and orange colours in the classic colour scheme, as this has been a much requested upgrade since version 2.3 was released. Additionally Pixelated Plus now has an all Green colour scheme (pictured), that is similar to the all red, and all blue colour schemes that version 2.3 recently added.
BlackBerry Style 9670 Support
While version 2.3 was capable of supporting the new Style, version 2.4 is better optimized for this new BlackBerry 6 device.
Pixelated Plus requires a minimum of OS 4.6 and considering that is met, the 8330, 8350i, 8520, 8530, 8900, 8910, 9000, 9100, 9105, 9300, 9330, 9500, 9520, 9530, 9550, 9630, 9650, 9670, 9700, 9780, and 9800 are all supported.
Links & Information