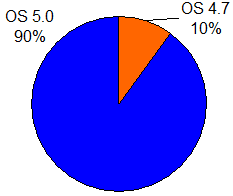 Roughly a year since the release of OS 5.0 on the BlackBerry Storm 9530, the adoption rate appears to have leveled off. 89.8% of 9530 users have upgraded as of October, which is up only a tenth of a point from September, and remains almost completely unchanged from the upgrade rate from August.
For a look at adoption rates of OS 5.0 over the entire first year of its release on the BlackBerry Storm, check out my article over at BlackBerry Cool.
As it has before this data comes from downloads of the popular game Pixelated. This is currently the most popular strategy game in BlackBerry AppWorld giving us a large enough user base to make these observations.