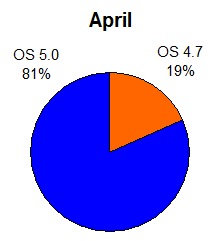 As an update to our look on BlackBerry OS5 adoption rates, in April the 9530 saw 81.4% of users running OS 5. We first looked at this issue in Novemeber and again in January.
Using our data BlackBerry Cool has showed a comparison between between the first month of OS 5.0 on the Storm and on the Tour. The early upgrade rate on the Tour has been quicker, but at only 71.1% it is well behind where the 9530 is today.
Meanwhile Al Sacco has acquired some data on the overall OS marketshare. While the data reflects our statistics of decent upgrade rates on the Storm and Tour, it also shows plenty of 4.5 and 4.6.1 systems still around. 44% are still using OS4.5 or earlier which means that for alot of people their operating system is over two years old, and prevents them from using a single one of our products.